All tube,  two channel stereo, hi-end analogue design, from input to output
Fully Transformer balanced, switchable for unbalanced use
10 continuously variable (+/- 3db) wide EQ bands per channel, with stereo -tracking  controls, covering the whole audio spectrum and an overall frequency response of 5hz to 60Khz
---
The filter section uses 20  precision inductors in a split signal path active tube circuit topology (two separate, full bandwidth EQ paths per channel), with
Stereo input level control for both EQ paths giving unrivalled flexibility and control.
---
Additional stereo, continuously variable Contour controls for LF, MF/HF with two switchable centre frequencies and Left and right output level trim controls.
---
An external, high voltage, high -headroom power supply provides ultra -dynamic transient delivery and a big wide soundstage, with each channel having its own HT and DC heater supply.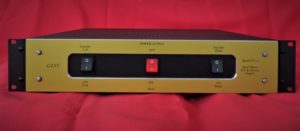 The DC power supply is connected via an umbilical cable using precision Swiss-made connectors

Uses only the highest quality matched vacuum tubes, 6 x 12AT7 and 4 x 6SN7. 
Audiophile quality components throughout.
 Pro Mogami OFC internal cable wiring.
Machined aluminium silver or black control knobs
True bypass switching.
Scratch-proof front and rear panels.
---
Advantages:
Supreme Flexibility in use- Its 10 continuously variable wide EQ bands and split channel format allows far greater control and variation of tonal structures, without losing vital audio information at surrounding frequencies  of other instruments.
Highlight the timbre or tone of instruments, vocalists easily  and increase dynamic range to great effect.
Reveal the energy and detail in the music with a vastly increased warm clarity and definition.
Musicians – use it to reveal the hidden detail from your pedalboards or processors and feel more connected and in control of your sound than ever imagined.
With its unique tube circuitry the EQ1-s can achieve superior sounds and textures with minimal EQ adjustment, each band affording +/- 3db of fine control.
Its' smooth wide-band curves exploit all the sonic benefits of an active tube design with stunning results.
The ultimate analogue tool for stereo recording, mixing and mastering.
The EQ1-S has a Unique high-end rich, dynamic, warm, detailed, incomparable sound quality and is the ultimate  analogue tool for stereo recording, mixing and mastering.
Hear the Warmth…………Feel the Detail